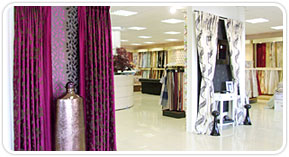 Our new show room has

an extensive fabric library to cater to your needs, leading brands available under one roof.



Visit us for a one to one service

, we can ensure a superior finished product and are happy to advise you on design and application, colour and co-ordinates.
Decorating and furnishing a house

is what turns it into a home - a warm and welcoming place to live and entertain friends.



When you're choosing coverings for the floors

, walls and windows, take your time and think carefully about the mood you want to create for each room.



Think about colours and textures

, we'll be happy to help develop your ideas. Our team has over 15 years of experience in working with homeowners, designers and housebuilders to produce attractive and effective solutions to window dressing.



Your choice will no doubt be influenced by your budget.

Our experience is that you only get what you pay for. Ideally you want things that look great, function effortlessly, and don't cost the earth.



Here at Walter Donoghue Curtains & Blinds

, we offer a terrific choice of custom made blinds and curtains and an almost unlimited range of colours and patterns.